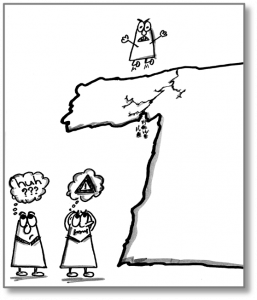 Risk-based thinking is a powerful way to limit risks and deliver quality. It helps to create deeper insight and it promotes 'common understanding'. Risk-based thinking and working means organizing your software development process around possible risks and seeing it as a continuous process.
As a team we want insight into value and risks. This requires a detailed understanding of the way of working, the product and the possible risks. As a team, you work together to anticipate issues that threaten the value of the product, or that threaten the timely, successful completion of the work.
Today, risk analysis is much more of a team effort. Because we often no longer have project managers, but also the way we work and technological developments are causing changes. Agile/DevOps teams want to create as much value as possible in short iterations with fast feedback. The big question we need to answer as a team is: are there potential issues that threaten the timely, successful completion of the product? Of course we do this together with our stakeholders.
Program
In this interactive and hands-on workshop we get started with risk analysis. We use risk heuristics and focus on evaluation instead of measuring risks, because software risks usually cannot be measured. You learn how risk analysis can be carried out systematically. You will also gain insight into how these risks can help you, in a practical way, to deliver the quality that your customer wants.
After the workshop you will know:
* How to use risks effectively in your daily work
* How do you make a practical and thorough risk analysis
* How to use risk heuristics to improve your risk analysis
Practical information
For whom?
This workshop is for anyone who wants to learn how to analyze and identify risks using heuristics.
Pre-requisites?
No specific knowledge is required.
Location and number of participants
The training is provided centrally in the Netherlands. Of course it is also possible to do this in-house at any location in the Netherlands or online. For this you need to register at least 6 participants. The maximum group size is 10 people. In this way everyone receives sufficient personal attention and there is sufficient time to answer questions and self-submitted cases.
Cost
1/2-day Workshop €295 p.p.
1/2-day in-house/online workshop €1,500 per group.
More information?
Do you want more information or do you want to register? Then contact us!
To the overview