From 27 to 29 September 2019 Patrick van Enkhuijzen, Jeroen van Seeters, Klaartje van Zwoll and Carlo van Driel will be present at # play14 serious gaming in London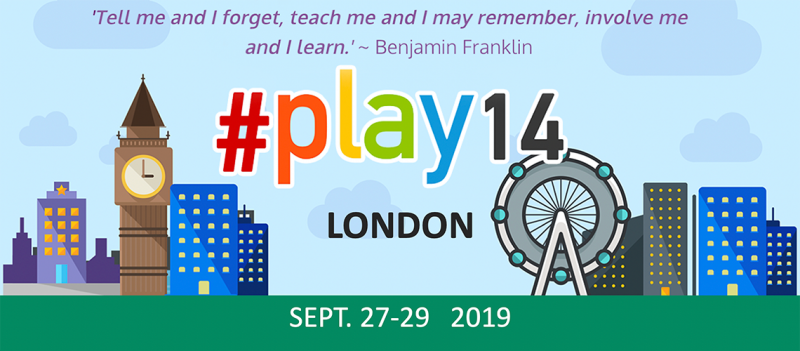 #play14 is an international gathering of like-minded people who share the common idea that playing is the best way to learn and understand !
Tell me and I forget, teach me and I may remember, involve me and I learn - Benjamin Franklin
For two and a half days, people with many different profiles and experiences are invited to share serious games & fun activities, experiences & tips, knowledge & insights, laughs & smiles. Everyone is welcome to join.
A proposed activity could be a lot of things:
A serious game that you use as a metaphor in order to understand a new concept
An ice breaker game where people learn more about one another
A facilitation technique that you can use in your daily work
A team building exercise that fosters collaboration and self organization
A game design session where you invent a new game to teach something new
A soul searching, deep-dive introspection session where you learn about yourself
A one-on-one coaching session where you will find some answers with the help of a friend
A brainstorming session on a question or problem that wakes you up at night
A creative session where you sketch, doodle, or build something together
An improv theater session where you can work on your confidence and ability to speak publicly
A more esoteric session on a practice/hobby you want to share like yoga, laughter yoga, Tai Chi, Qigong, meditation, mindfulness, aikido, ...
It could be pretty much anything as long as it respects our Manifesto and Code of Conduct.
Join us in order to develop your facilitation skills, increase your ability to accompany change in your organization, foster your creativity and improve your capacity to innovate.
You can discover more about a person in an hour of play than a year of conversation - Plato
#play14 is an unconference, where all attendees are also contributors. All you need to do is show up, and you will be given the opportunity to propose some games, or play the games proposed by the others.
However, #play14 is first and foremost a community of people, a family, and an incredible human adventure.
To the overview